Family Roles
Cultures And Role Restriction, Personal Identity And Roles, Role Expectations And Demands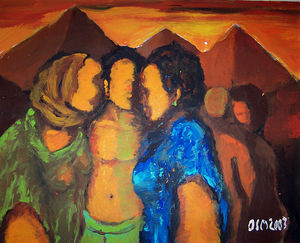 People throughout history depended on families and the kinship system for their survival. This dependence permitted and required that they conform to expected family roles depending on their living circumstances. This gave a family strong control over its members, a circumstance that is changing in the modern world because people no longer always need families for economic survival.
Intentional and unintentional forces worldwide continue to introduce important changes in family roles, in expectation and practice. For example, recent research in a variety of settings reinterprets women's historical roles in Egypt (Watterson 1998), among the Vikings ( Jesch 1996), in medieval Europe (Lewis et al. 1999), and among Native Americans (Klein and Ackerman 1995). Industrialization, urbanization, and the global economy, along with their communication systems, reach into a nation's families, changing where and how men and women live, how often and when they have children, and how they work. World citizenship, global cosmopolitan culture, and international conferences change gender roles. But role change is not unidirectional and may become either narrower or more diverse.
Social roles pivot on assigned and attained places in various social settings, including work, politics, religion, and family activities. Across cultures, gender is an important assigned social location among these (Goody 1996). In the past, sex role was the common designation for activities based on being male or female. Gender role is more frequently used now because it seems less restrictive than sex role. Both terms continue to be used interchangeably.
Social role applies to family in multiple ways, but examining adult roles is complicated by a family's living arrangement. Family roles vary importantly among one-parent, two-parent, and multiple-parent families depending on the combination of persons by gender. Nations variously prescribe what constitutes the family unit through their laws. Preindustrial cultures more commonly prescribed, or permitted, a marital unit with one male and more than one female (polygyny), and less frequently a unit with one female and more than one male (polyandry). The status of a male or female reflected, in part, how many spouses one would have (Cassidy and Lee 1989). Higher status males tended to have more wives. The social context of these different family living arrangements dictates different rights and responsibilities based on gender (Dodoo 1998). Modernizing societies tend toward equalizing gender status and power.
Several terms identify basic social role dimensions, and an extensive body of literature discusses these dimensions (Farmer 1992). One dimension is role location. Common titles identify family role location such as mother, father, daughter, son, uncle, or aunt. These titles identify the general status and gender of the people within the family. Hence, these titles reflect family rights and responsibilities, duties and privileges, power and authority. Gender is important in making social distinctions because families often transmit wealth and property by gender, making a person's sex a factor in determining family status. Role status and the precision of these terms vary widely among the world's cultures. Increased family mobility and modernization blur traditional kinship statuses, particularly in countries based on traditional agricultural economies.
Additional topics